Injuries unit night closure march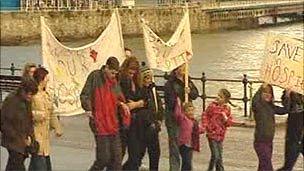 Around 100 people held a protest march through Llandudno after a cut in opening hours at the minor injuries unit of the Conwy town's general hospital.
Since 1 September, the unit has closed at 10pm, which the Llandudno Hospital Action Group calls unacceptable.
Betsi Cadwaladr University Health Board said concerns were understandable.
But the board said the unit was lightly used, and the change made better use of resources.
Llandudno town and Conwy county councillor Linda Groom, who is also part of the Action Group, said the group had "staked out" the hospital because they disputed the number of patients who needed the service after 10pm.
"The population of Llandudno doubles, if not trebles, during the summer due to the number of visitors," she said.
"But really there are loads of people around all the time because of the number of different breaks available such as the 'turkey and tinsel' [at Christmas], or school half-terms.
"We also have an elderly population, and are near two deprived areas," she said.
She said it was "ridiculous" that people had to travel "20-odd miles" to Ysbyty Glan Clwyd at Bodelwyddan, or to Ysbyty Gwynedd in Bangor.
"The health board say they see an average of two patients a night, but we argue that it is more than that.
"People won't get a better service if they go elsewhere, it just makes it easier for the health service," she added.
She said members of the group saw two people turn up at the unit because they were unaware of the changes.
"One was a seven-year-old in his father's arms, and another a holidaymaker, exactly the type of people we say are suffering."
A spokesman for the health board said: "We appreciate the concerns that people may have over the closure of the unit at night.
"But the fact is that we were only seeing an average of two patients per night and sometimes we didn't see anyone."
Because of this the board could not "justify keeping the unit open overnight", he added.
The decision was taken to use resources more effectively, and patients would not be put at risk, he said.
The views of patients, staff, the hospital action group, the hospital league of friends, members of Conwy council, members of Llandudno Town Council and voluntary organisations were considered in reaching the decision, he added.
"The decision was also fully supported by the community health council," he said.
Related Internet Links
The BBC is not responsible for the content of external sites.