Driver towed 10 in caravan from Stoke to Gwynedd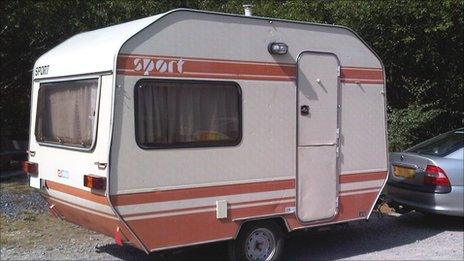 A motorist who towed a caravan carrying three women and seven children has been banned from driving for two years.
Sameer Mirzar, 46, of Stoke-on-Trent, drove the 10.5ft x 6ft (3m x 1.8m) caravan for about 100 miles (160km) for a picnic in Llanberis, Gwynedd.
Mirzar, who admitted dangerous driving, was stopped after other drivers saw the curtains moving.
North Wales Police told Caernarfon magistrates court it was "totally irresponsible behaviour".
Mirzar, an airline worker, was stopped by traffic police after being spotted towing the red and white caravan.
The children inside were aged between five and 14.
The driver, from Saudi Arabia, pleaded ignorance of the law and highway code, adding that he would never put his family in a dangerous position.
He was halted on the A4244 after being seen by other motorists on the A55.
Sgt Ifan Jones told the court: "It was totally irresponsible behaviour and could have had disastrous consequences.
"The consequences of this caravan overturning or being involved in a collision are unimaginable. It was risking the lives of innocent people unnecessarily".
Mirzar was banned from driving for two years and must retake his test.
He was fined £900 with £215 costs.
Related Internet Links
The BBC is not responsible for the content of external sites.