Cameras clamp down on fly tippers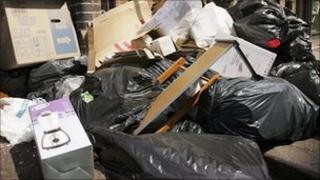 A council is to use hidden cameras in a bid to clamp down on fly tipping.
Gwynedd council said the cameras would be in addition to their regular patrolling and investigation work.
All- Wales group Fly-tipping Action Wales said every one had a legal responsibility to get rid of waste safely without harming the community.
Figures suggest there were 55,000 incidents of people illegally dumping rubbish between April 2008 and March 2009, costing taxpayers around £3m.
The most common items thrown out are furniture, white goods, rubble, packaging and old tyres.
There are occasionally dangerous materials included too, such as asbestos.
"The majority of people are genuinely concerned about the standard of their local environment, particularly their own neighbourhood," said Councillor Gareth Roberts, the council's senior portfolio leader on the environment.
"Dumping rubbish is unattractive, can pose a risk to public health and increase fear of crime locally," he added.
Mr Roberts said it was "anti-social behaviour that should not be tolerated".
Gwyn Morris Jones, Gwynedd council's head of highways and municipal services said the use of cameras will help deter people from dumping their rubbish.
"It will also help to gather evidence about the small minority who continue to flout the law," he added.
Helen Jenkins, the all-Wales co-ordinator for the Welsh Assembly Government-sponsored Fly-tipping Action Wales, said over 40 Welsh agencies have come together to tackle the problem.
"Through working as a partnership, we try to share information on ways to tackle fly-tippers and this use of surveillance cameras will provide a way of capturing evidence that will hopefully lead to even greater numbers of prosecutions in the Gwynedd area," she added.