Group claims Anglesey nuclear 'scepticism'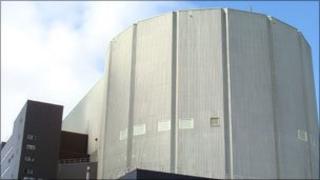 A survey has found that three quarters of people would rather see Anglesey jobs in alternative or renewable energy, according to a campaign group.
The Wylfa nuclear power station is to continue operating until 2012 and there are plans for a Wylfa B.
PAWB (People Against Wylfa B) said the survey showed islanders were still 'sceptical' about Wylfa B.
However, Horizon Nuclear Power, who are behind the new station, welcomed the survey.
A public meeting at the Victoria Hotel, Menai Bridge at 1800 GMT will discuss the survey results.
Five hundred people on Anglesey and Gwynedd were questioned over the summer.
The survey was commissioned following a request from campaign group PAWB and was carried out by Bangor University's School of Social Sciences.
Ninety seven per cent of respondents were aware of plans to build a Wylfa B.
The survey also highlighted "a general lack of information" about renewable energy options and that "500 jobs will be available following the decommissioning of Wylfa A".
Work for people on Anglesey, and more money in the local economy, were cited as the main advantages of Wylfa B.
On the list of disadvantages "pollution of the environment, harmful effects on people's health and harmful effects on children's health" topped the list.
There was also concern about any radioactive waste being kept at the Wylfa B site.
'Powerful argument'
"This survey shows that public opinion remains sceptical when it comes to brining another nuclear power station to Anglesey," said Dr Carl Iwan Clowes, a consultant in public health and member of PAWB.
"On the one hand people are keen to see jobs come to the island, but on the other there is still real anxiety about the effect on the environment and people's health," he added.
Dr Clowes said job creation was a "powerful argument" for the construction of Wylfa B.
"But at what cost, and will these jobs go to local people?" he asked.
"There are many concerns about Wylfa B which remain unanswered, and we are calling for a more informed debate, especially when it comes to alternative ways of securing a sustainable energy supply for future generations," he added.
'Overwhelming support
Horizon Nuclear Power said it welcomed the survey.
"Anything that helps healthy public debate is all to the good," said a spokeswoman.
"We've just completed two weeks of public exhibitions on and around Anglesey about our plans and had really good discussions about everything from jobs to local impact to waste and safety," she added.
The company had seen "hundreds of people and had overwhelming support", she said.
The spokeswoman said waste management was an "important part of the story".
"Spent nuclear fuel has been stored on site at nuclear power stations for decades, and new fuel is just as capable of being stored safely," she added.
"There may be good practical arguments for moving it sooner into a final geological disposal facility, being developed by government, and we're studying that possibility too," she said.
The public meeting takes placeat the Victoria Hotel, Menai Bridge, Anglesey at 1800 GMT.