Gwynedd's £3m loan fund to help companies in recession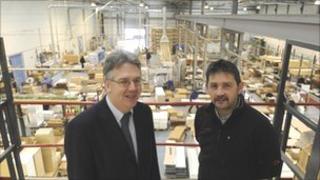 A £3m loan fund has been set up to help companies in Gwynedd who are struggling to borrow money from the banks.
The fund which the council says is the first in Wales will provide loans of between £25,000 and £100,000.
Council leader Dyfed Edwards said small and medium companies were vital to the county's economy and the authority wanted to support them.
One local businessman called it a "marvellous resource".
Some council money has been available in the past to help businesses but the new fund is structured differently to provide loans.
Welcome Furniture in Caernarfon secured a commercial mortgage from the authority last year.
Its financial controller, Simon Montague, welcomed the new fund.
"We wouldn't be here without the help we got from the council," he said.
"The company employs over 75 people in Caernarfon and at the time when the council helped us we had no history, no financial history, with which to approach the banks."
Coun Edwards said they had been "thinking creatively", about how to help small businesses.
"We are responding to what local companies have told us, and aim to deliver the support that our traders require," he added.
Empower
The loans fund was the first of its kind in Wales, Mr Edwards said.
"This is the type of innovative measure that we as a council are keen to replicate in other areas in order to make a difference for Gwynedd," he added.
Research carried out as part of a 'Responding to the Recession' action plan found that local companies were finding it very difficult to secure loans banks during the tough economic climate.
"This is the latest step in our strategy to empower the country's business sector," said Coun Dewi Lewis, who leads on economy and community for the council.
The loans fund will be in place by the beginning of the next financial year.
Businesses who want to find out more about the fund should contact Gwynedd's business support service on 01286 679778.