TripAdvisor chief meets north Wales hoteliers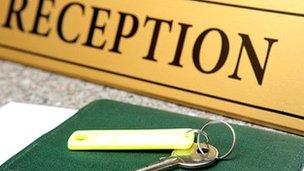 Hoteliers have met a director from online review site TripAdvisor in two north Wales meetings.
Tourism chiefs organised the face-to-face event to allow business owners to air their concerns after some criticised "unfair" reviews.
Following the meeting one hotel owner said he would "wait and see"' whether the situation would improve.
But another said the site provided free advertising and generated a lot of business.
Before the first meeting in Caernarfon TripAdvisor said it would be a "masterclass" on how to get the best out of the site.
Hotel owner Louis Naudi, from the Royal Sportsman in Porthmadog, clashed with the site in September because he said inaccurate comments on the website had unfairly affected his hotel's rating.
He said he had "expressed, in no uncertain terms, my views... the good points and their short comings".
Mr Naudi said he felt the company did not follow their own guidelines.
"Maybe the site has grown so quickly that their checking systems have not developed apace," he added.
The hotel owner said that he had an "open mind" after TripAdvisor's Karen Plumb promised to investigate his claims.
Julie Key, who runs the Glyn y coed hotel in Criccieth, said the site had generated a lot of business for the hotel from all over the world.
"To me the point is it's free advertising... and I get a good percentage of my customers through TripAdvisor," she said.
Ms Key acknowledged there was a downside when people posted negative comments and she could see why a business owner would take criticism personally.
"Bad comments are not nice but you have to look at them," she said.
"I had one lady who complained that check-out was too early, so I've looked at that, reviewed it, and extended it by half an hour - although we weren't that strict with it anyway," she added.
Of another comment she said: "Another was a nutcase who obviously complained everywhere he went, and he had in fact asked for a discount or he would post a negative comment about us."
TripAdvisor director Karen Plumb said the meeting was about "getting people to understand" what the site can offer.
"It was an opportunity to tell businesses about the free tools and right to reply which is available.
"We are here to generate business for them," she added.
After the morning meeting in Caernarfon Ms Plumb went on to speak to more business people in Abergele, Conwy in the afternoon.
Related Internet Links
The BBC is not responsible for the content of external sites.