Water firm admits polluting Llyn Padarn lake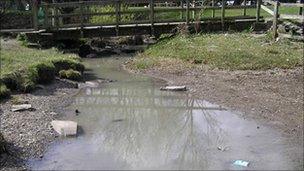 Water company Dŵr Cymru has admitted allowing untreated sewage to enter Llyn Padarn lake in Llanberis, Gwynedd.
Magistrates at Caernarfon gave the firm a six months conditional discharge and ordered it to pay costs of £3,800 following the spill in April.
The Environment Agency said the incident was "disappointing" and they would be monitoring the situation.
Credit was given for a guilty plea and magistrates said "culpability and harm were very low."
The court heard there was no evidence of anything dying as a result of the pollution, and the impact on users was small, as they were "advised" not to make use of the lake.
The sewage went into the lake via the Afon Goch.
The lake feeds the Afon Seiont which flows down the valley towards the sea at Caernarfon.
David Edwell, north Wales area manager for Environment Agency Wales, said after the court case: "It's disappointing that this happened, and in such an environmentally sensitive area and one that relies on the recreational use of the lake."
He added that the agency would "continue to regulate Dŵr Cymru's operations firmly".
The agency was "encouraged that since this incident the company's attitude towards its environmental obligations in the area has been positive," he said.
"Prevention is better than cure, and we will be working closely with the company to try and prevent incidents of this type recurring," he said.
At the time, Huw Hughes, the secretary of the Seiont, Gwyrfai, Llyfni Angling Association, said the situation at Llanberis was "completely unacceptable".
"Put simply the sewerage system is archaic, and the pipe which broke was a cast iron one, and that kind of pipe should have been replaced," he said.
Related Internet Links
The BBC is not responsible for the content of external sites.