Strategy to promote 'fragile' Welsh language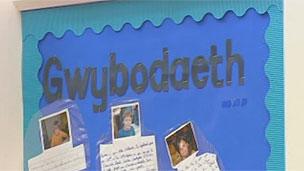 Bilingual towns and targeting the under fives are among ideas for promoting the use of the Welsh in everyday life.
The strategy Iaith Fyw: Iaith Byw (A Living Language: A Language for Living) aims at increasing the numbers who can speak - and want to use - Welsh.
Welsh Assembly Government minister for heritage, Alun Ffred Jones, said that despite "encouraging signs" the language currently "remains fragile".
The Welsh Language Society welcomed the government's "honesty" on the issue.
Recommendations to boost the language include creating development areas across Wales, bilingual towns and cities projects and targeting the under five group.
"Despite the last census showing encouraging signs for the language, especially amongst young people, the position of the language remains fragile," said Mr Jones, at the launch in Llanrwst.
He added the strategy aims to build on the achievements of bids to increase the numbers who can speak Welsh and choose to do so, throughout Wales.
"Almost all fluent Welsh speakers speak Welsh on a daily basis, but they need more opportunities to use the language in all spheres of life," Mr Jones said.
The "natural and commonplace" use of the Welsh language had been lost in many workplaces, he added.
"One of the challenges of this strategy will be to create a wide range of opportunities for the use of the language to become a day-today activity again," he added.
Children and young people should also be inspired to use the language.
"Opportunities should be created for them to build up their confidence in using the language so that it becomes not only more commonplace but a matter of pride," Mr Jones said.
Meri Huws, the chair of the Welsh Language Board, said the strategy "builds upon the increasing goodwill towards the language".
"It paves the way to ensure that the Welsh language can flourish in all aspects of life in Wales," she said.
"It recognises the importance of working on a community level, in rural and urban areas, in a way which reflects the unique needs of different areas," she added.
Ceri Phillips, from Cymdeithas yr Iaith Gymraeg (Welsh Language Society) said he welcomed the government's "honesty" about the state of the language, particularly the focus on its use.
"But, although there are a number of good ideas in the strategy, we are concerned about the willingness of the civil services to implement the plans.
"The lack of definite targets is also a matter of concern," he added.
Anyone can comment on the document by emailing comments to welshlanguagestrategy@wales.gsi.gov.uk by 4 February, 2011.
Related Internet Links
The BBC is not responsible for the content of external sites.