Llanrwst man posted paedophile web slurs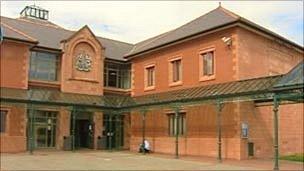 Dozens of innocent men and women in a north Wales town were branded paedophiles and had their photographs posted on the internet, a court heard.
Rory Fyfe Smith, 31, of Llanrwst, Conwy, targeted an ambulance service first responder, school employees and students, magistrates were told.
Smith admitted seven sample charges of posting grossly offensive material on the internet and 27 similar offences were considered.
He was bailed for a psychiatric report.
Smith used a camera to take photographs of his victims without their permission while they were out in public at Llanrwst, the court was told. He also used their Facebook pictures.
Images taken by him were placed on blogs and YouTube with captions such as "child abuser".
Magistrates at Llandudno heard that Smith's victims suffered severe stress and potential harm to their professional and personal lives. There was also the risk of vigilante action against them.
An interim Asbo bans Smith from uploading or placing on the internet any comments or photographs of people without their agreement.
Prosecutor Karen Mullin said he had been acting in a furtive manner in the Llanrwst area last summer.
A 48-year-old ambulance service first responder discovered images of his works van on the internet with offensive captions.
A 24-year-old primary school teaching assistant was alerted by a friend to a blog created in her name.
Defence solicitor Carla Forfar said: "Rory apologises unreservedly to his victims and accepts there's no truth whatsoever in any of the allegations he's made.
"He has been diagnosed with significant mental health issues."
Mrs Forfar said Smith was now receiving medication.
"He saw what he did as righting wrong. But they were sadly wrongs that didn't exist," she said.
Mrs Forfar said the case illustrated the dangers of the internet.