Investigation continues into Penrhyn Bay house fire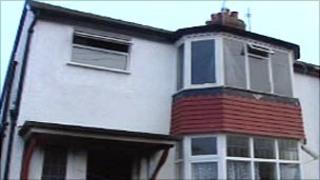 An investigation is under way into a house fire in Conwy county, which saw a 13-year-old girl rescue her younger sisters.
The teenager, named locally as Alishaa Williams, threw a laptop through a window and helped the girls, aged eight and 18 months, to safety.
Neighbours said thick black smoke at the Penrhyn Bay property near Llandudno prevented them from gaining access.
Three adults, rescued by fire crews, were badly hurt in Monday's fire.
North Wales Fire and Rescue Service said the adults - the mother, 32, and her two friends, a 32-year-old woman and a 38-year-old man - were sleeping upstairs when fire broke out at around 0030 BST.
The mother is described as being in a "serious but stable" condition while her two friends are said to be "critical".
Neighbour Gareth Owen said he was outside with his dog when he heard screams and glass smashing coming from the house in Trafford Park.
He and his wife ran up the road to help.
He said: "I saw Alishaa and she handed me her baby sister and was shouting that her mum was still inside.
"I handed the baby to my wife and then another neighbour Ray Jones started to kick the front door in.
"Once it was open I ran into the house but there was really thick black smoke."
Mr Owen managed to make it up two steps before he was overcome. He ran back out and then returned with a jumper wrapped round his face.
"I managed to get up about four steps but then my wife was shouting for me to get out and then Ray grabbed me and pulled me out.
"It was just impossible to go any further."
Mr Owen was later told by firefighters that the smoke was so intense that by the time he would have reached the sixth step, he would have been unconscious.
The children had been sleeping in a downstairs bedroom when the eldest girl was woken by a smoke alarm.
The girl was praised for staying calm after speaking to the fire control.
Alyn Edwards, of the fire service, said the girl then used a laptop computer - a gift for Christmas - to smash a window and help the eight-year-old get out.
She then passed the baby to her younger sister through the window before breaking another window to make her own escape.
"Her actions certainly gave the family a chance of getting out of the property," Mr Edwards told BBC Wales.
"She was extremely brave, and she stayed extremely calm. You can't really put into words how proud everyone must be at her actions."
Five fire crews from Colwyn Bay, Rhyl and Llandudno attended the incident.