North Wales ports are not soft targets, warns judge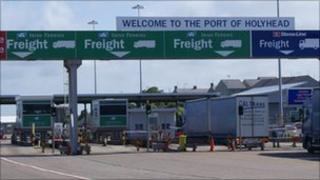 A judge has warned north Wales' ports should not been seen as soft targets for people to enter the UK illegally.
Judge Niclas Parry made the comments as he jailed a man for 10 months for admitting using a false driving licence to obtain travel documents.
Sri Lankan Sathes Thrunagukaras, 36, of Clonsilla, Dublin, was arrested as he came to Wales through the port of Holyhead in October.
The judge said borders were a cause of "increasing public concern".
"It is probably more important now, than it ever was, that accurate information is available on all people who enter the country," said Mr Parry, sitting at Mold Crown Court.
"People believe that the north Wales ports are a soft target.
Failed asylum seeker
"The message must clearly be understood that they are not."
The use of false documents was now reaching epidemic proportions, he said, warning that those caught using false documents would always receive custodial sentences.
Prosecutor Claire Jones said the defendant had been emphatic that the documentation was genuine.
He claimed it was ill health which had changed his appearance between the photograph on the driving licence and the one on the travel documents.
The court was told investigations showed the defendant was a failed asylum seeker who had absconded but had since been granted temporary residence in Ireland.