Two daughters given life for Old Colwyn murder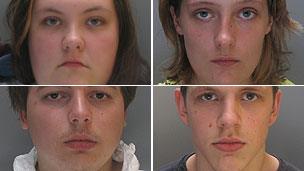 Two sisters and their boyfriends have been jailed for life for the "awful murder" of their father.
Ashleigh Robinson, 19, will have to serve 22 years before applying for parole, and Hollie Robinson, 16, will have to do 18 years.
Ashleigh Robinson's boyfriend, Gordon Harding, 20, who stabbed Antoni Robinson at his home in Old Colwyn, Conwy, must serve 22 years.
Sacha Roberts, 19, had a 20-year term. All were convicted at Mold Crown Court.
The four and Joanne Barr, mother of the sisters and Mr Robinson's former partner of 25 years, were sentenced for conspiracy to pervert the course of justice after lying to police.
Barr was jailed for four years.
The judge described it as an "awful murder" when Mr Robinson was stabbed 15 times in his home.
Mr Justice Giffith-Williams said: "It is to be hoped that in his dying moments he was at least spared the awful realisation that it was his own daughters who were a party to his murder."
He said the daughters had been scornful of him and abused his kindness, who worked their way back into his affections.
Mr Justice Giffith-Williams said he was satisfied that when Ashleigh Robinson had sent a "I am going to kill him" text to her mother that it was not a hollow threat.
The judge said that he would fix the minimum terms for Harding, Ashleigh Robinson and Roberts on the basis of the "significant degree of planning" that had taken place.
It was described as a family dispute over money, jewellery and property.
The court was told that Harding stabbed Mr Robinson, a retired antiques dealer and French polisher as he slept in his bed.
He had a safe in his bedroom, which Ashleigh believed contained money, and Mr Robinson was known to be a heavy sleeper.
The judge said Harding was very much under "malign influence" of girlfriend Ashleigh who had turned against her father.
Roberts, who took a knife to the house, was not as significantly involved in the planning and was called "more of a follower" by the judge.
But he told Hollie Robinson that despite her age, she bore "a heavy responsibility for the murder of your father."
At the time of the murder last year Harding was living at Mr Robinson's house with Ashleigh Robinson and their baby daughter.
The defendants had claimed the only plan was to get jewellery from the house, and there was no plan to kill or hurt him.
Mr Robinson suffered 18 wounds, 15 of them stabbing, to his face, neck and upper body, including four stab wounds to his back.
The prosecution said he had been completely overpowered.
The sisters' mother, Joanne Barr, 45, was branded "thoroughly wicked" by the judge who said that there were moments during the trial when he suspected she might have been a part of much more serious offending.
But that was no more than suspicion and certainly no evidence to the required standard.
After the sentences, district crown prosecutor for the CPS in north Wales, Karen Dixon, called it an "horrific attack on a defenceless man".
"The police investigation revealed that Mr Robinson had been stabbed some 15 times, which highlights the savagery of the incident.
"The jury agreed with the prosecution case that, whilst Gordon Harding was responsible for stabbing Mr Robinson, all four defendants were part of a plot to have him killed.