Wind-hit £20m government office reopens in Llandudno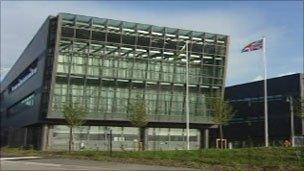 The wind-battered £20m Welsh Assembly Government building at Llandudno Junction has reopened a day after it was closed and all staff sent home.
The office was reopened after a full health and safety assessment after damaged metal sheeting on the roof was secured.
The office was opened by First Minister Carwyn Jones last September.
Around 400 staff work at the site, although many had been contacted before they got into work on Monday.
A spokesman said: ""The office is open as normal today, and the metal sheeting dislodged by the wind is now secure.
"There has been a health and safety assessment and the office reopened at 7am this morning."
The Llandudno Junction office can accommodate 650 staff, and is part of a commitment to spread civil service jobs across Wales.
Llandudno Junction is the third assembly government office outside Cardiff. Offices in Merthyr Tydfil opened in 2006 and Aberystwyth in 2009.
It was built to house the economic and transport departments, education and lifelong learning, and regional communication teams.
The Welsh Assembly Government spokesperson said the decision to close was taken early on Monday morning when many staff had not yet arrived.
Related Internet Links
The BBC is not responsible for the content of external sites.