Approval likely for energy plant at Holyhead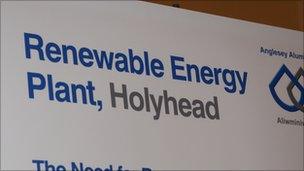 A proposed renewable energy plant on Anglesey is a step closer after the Environment Agency said it was likely to grant an environmental permit for the site.
Anglesey Aluminium Metal Renewables Limited (AAMR) is seeking permission for the plant at its Holyhead site.
Further public consultation will now take place up to 7 March.
The Anglesey Aluminium site is for sale, with offers invited in the region of £10m.
The re-melting plant on the land at Penrhos, Holyhead, will remain open and will still be run by Anglesey Aluminium Metals Ltd (AAM).
in addition to the environmental permit, the renewable energy plant will also need separate planning permission from the Department of Energy and Climate Change.
Last month plans to promote Anglesey as a base for renewable energy may have suffered a setback after the UK energy minister said there would be no money to develop Holyhead port from the Government.
Charles Hendry was visiting Anglesey Aluminium and Wylfa's Nuclear Power Station and said any development money would have to come from the assembly government.
The environmental permit regulates the impact of the plan on the environment.
It does not cover issues such as traffic, visual impact, operating hours and impact on shipping.
Those issues would be considered as part of the planning permission needed from the Department of Energy and Climate Change (DECC) which will also be needed for the plant to operate.
"Our positive draft decision means we can see no reason, at this stage, why Anglesey Aluminium Metal Renewables Limited should not be given an environmental permit," said David Edwell, Environment Agency Wales' area manager for north Wales.
Mr Edwell added that "at this stage" the agency did not anticipate that the plant would cause any significant risk to the environment.
There will be one more round of public consultation before a final decision is taken, he said.
A public information session will be held about the permit process at the London Road Community Centre in Holyhead on Thursday 17 Febraury (1600 - 1900 GMT).