Injured rescuer honoured for saving Snowdonia kayakers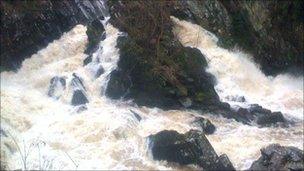 Alistair Read is grateful for the top award recognising his part in a daring rescue of two kayakers, but says he would rather have full use of his arm again.
Fifteen months on, the 48-year-old from the Conwy Valley has some disability in his arm since helping to prevent the pair being swept over a waterfall near Betws-y-Coed in Snowdonia.
He admitted he was a little embarrassed by his Royal Humane Society award because, he said, it was "a team effort, and they had to save me".
But despite the risks, he said it was rare for rescuers to be seriously injured, and he and his colleagues could not have simply stood by.
Ogwen Valley Mountain Rescue and other emergency services were involved in the drama at Conwy falls, which ended with him spending three days in intensive, surgery for liver damage, and with broken ribs.
Mr Read is back at work in his job as an emergency services trainer, where he says he can point to his personal experience during training.
He has also been out on mountain rescues, although he said: "I have to be careful, and I spend a lot of time in the ops room, and don't do the high activity stuff".
He accepted there was "always a risk when there's a bit of pressure", although rescue teams were "pretty careful."
"We had to do something, though, we couldn't just stand at the top [of the gully above the river] because there was a real risk they would have been washed away and they would have died".
The rescue was in November 2009, and the two kayakers were in the water when he got to the falls.
"It's a dangerous bit of white water, and the two were about 10 metres away from a vertical drop of about 5-6m, and it's debatable whether that would have been survivable," he said.
Mr Read said that as the man and woman were at the "last point of sanctuary" it was essential to get to them as soon as possible.
"They had been in the water for about an hour by this stage, and it was November, and they were shouting for help," he said.
The decision was taken to lower him down to them so that he could get them out of the water "onto a ledge about two to three inches wide, near a little gully for shelter".
Another half-an-hour passed as a rope system was set up to bring them up the 50 ft (15m) to the top of the gully, he added.
Mr Read said he was uncertain how or when it happened, but as the woman kayaker was being winched up a boulder "the size of a TV" was dislodged and hit him.
"I didn't see it as it was dark, I just felt the pain, I thought I'd broken my arm and I knew I'd broken ribs," he said.
"I could hardly breathe... it was too painful for me to feel scared, I just registered how much it hurt," he added.
When a rescuer next came down the rope it was decided to winch Mr Read up ahead of the remaining kayaker.
Presenting him with his award, North Wales Police assistant chief constable, Gareth Pritchard, said Mr Read had displayed "tremendous courage during the rescue".
"This is typical of the actions of our mountain and cave rescue volunteers in north Wales and across the country... his actions are worthy of recognition," he added.
Related Internet Links
The BBC is not responsible for the content of external sites.