Search for sea champions begins in Anglesey and Gwynedd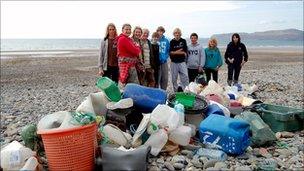 The hunt is on for "sea champions" to protect Anglesey and Gwynedd's coastline and marine life.
Volunteers will help the Marine Conservation Society (MCS) with beach clean-ups, fundraising or monitoring species and habitats.
The "action day" on Saturday is part of a drive to increase interest in marine life by the Welsh Assembly Government.
Information collected will help decide which parts of the coastline will be 2012 marine conservation zones.
"Volunteers have always been an important part of our work and we know there are lots of people out there who share our passion and have the skills to help us achieve our goals," said Gill Bell, the MCS Welsh officer.
"We are looking for people to get involved in any way that they can.
"Local knowledge is key to the success of being a sea champion," she added.
MSC's Sue Ranger, who will be hosting the action day on Saturday, said volunteers could adopt a local beach as part of their coastal clean-up campaign.
"We record everything we collect because it's also about looking at where pollution comes from, and what action we can take to tackle it," she said.
Information collected can also include sightings of big species like basking sharks, leather backed turtles and jellyfish.
Sue Ranger would also like the sea champions to be raising awareness among the public about the importance of the marine protected zones.
"There are only three sites in the UK with complete protection, and none are in Wales," she said.
A website had been set up and 14 sites in Wales identified as having habitats which deserve protection, she added.
"Some people have nominated specific underwater sites they've dived or fished.
"Others don't have specialist knowledge, but talk about a coastal area they really love," she said.
She also said that the public is welcome to comment on why they do not think an area should have complete protection so that they can continue to fish, dive or anchor a pleasure craft along a certain stretch of coastline.
The beaches the MCS suggest need special protection in north west Wales are Criccieth sea grasses, St Tudwal's Islands and Seasquirt Reef on the Lleyn Peninsula; Englishman's rock and Bottle Rock, Puffin Island on Anglesey and from Perch Rock to the Swellies in the Menai Strait - between Anglesey and Gwynedd.
The sea champions action day will take place at the Quaker meeting rooms in Bangor on Saturday, 12 February.
Related Internet Links
The BBC is not responsible for the content of external sites.