Sexual assault centre launched for north Wales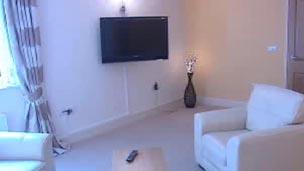 A centre to help victims of sexual assault in north Wales has been launched by police and health chiefs.
The £700,000 Amethyst SARC (Sexual Assault Referral Centre) is seen as a way that victims can access police, health and support services in one go.
Since it opened 18 months ago, 385 people have used the centre.
North Wales Police have seven specially trained officers working full-time to provide support for victims of sexual crimes.
"North Wales Police prioritises cases of sexual assault and we currently have an arrest rate of 96%," said assistant chief constable Gareth Pritchard.
"We also have the seventh highest rate of bringing offenders to justice of all police forces in the UK."
The force had "invested heavily in services for victims of sexual assaults," he added.
The idea for the centre was sparked by a Her Majesty's Inspectorate of Constabulary (HMIC) report in 2002 which looked at the police response into the investigation of rape.
Initially, it was thought the concept of having just one centre would not work in north Wales due to the geography of the area, but the benefits of having such a centre are said to have soon "swayed opinions".
Det Supt Wayne Jones, who is in charge of public protection for North Wales Police, said the centre would provide a "true holistic service to those victims of the tragic crimes of rape and serious sexual assault".
He added the building would provide a centralised location for victims where they can have access to the police, medical examinations, if needed, and also support services.
Part of the facility has also been made "child friendly" to provide a less intimidating environment for young victims, he said.
Dr Olwen Williams, the interim SARC clinical director, who also delivers the sexual health clinic at the centre, said it was "firmly victim focused".
"Victims must feel that a SARC is a place where they will be believed, where their needs will be put first, and where they will be treated with dignity and respect," she said.
"The service has considerable advantages for the victim - it allows seamless access to high quality sexual health care in a timely manner," she added.
There has been a "positive feedback" from victims who have used the service, she said.
The Crown Prosecution Service and the NSPCC are also backing the centre.
"Users will be offered a choice of male or female workers who have a wealth of experience and skills in working with sexual violence and abuse, emotional trauma and related court proceedings," said Sue Walls, children's services with NSPCC Cymru.
The Rape & Sexual Abuse Support Centre (North Wales) said the centre would also be available for victims of sexual crime who "do not wish to take the criminal justice system path".
The director, Katherine Moseley, said the support group's input into the Amethyst centre had made sure the "voice of the 'survivor' had been heard".
"It allowed the evolution of Amethyst to embrace the first hand experience and reflections of those that have had such life changing experiences in their life," she added.
Related Internet Links
The BBC is not responsible for the content of external sites.