Free roof offer for tiny former Snowdonia chapel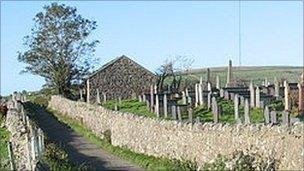 A community is battling to save a former chapel in Snowdonia by offering to pay for a new roof.
The Presbyterian Capel Tai Duon, which is due to be pulled down, stands next to a cemetery which is still in use.
People living between Pantglas - the childhood home of singer Bryn Terfel - and Bryncir in Gwynedd want it kept as a shelter for people tending graves.
A chapel committee member said they were waiting for extra information before deciding on the next step.
Idris Jones who organised the roof collection has donated £400 he was paid for cutting grass in the cemetery to the cause.
He said he could not understand the reluctance to save the building.
"It would be different if it was a really big chapel, but it's just a small place," he said.
The chapel has no electricity or running water.
"The walls are in perfect condition - putting a tin roof on it would give people somewhere to shelter when they visit the cemetery," he said.
Mr Jones claims the cost of pulling the building down would be more than putting a roof on.
"The chapel authorities say they will put a plaque on it, and it could provide parking space - but what's the point?
"There is no need for parking, and it would only hold a couple of cars anyway.
"If there is a funeral - and there's usually only about one a year - they can open the gate for cars to park in the field," Mr Jones added.
A spokeswoman for the Snowdonia National Park said planning permission was not required to replace the chapel roof, and no ancient monuments permissions would be needed either, as the structure was not listed.
Architect Frances Voelcker who specialises in finding new uses for historical buildings, lives nearby.
She said both she and her husband, who is also an architect, would be sad if the building was pulled down.
"We'd both feel it would be a pity to lose it, and we'd be happy to contribute towards it," she added.
A member of the local chapels committee, which looks after the site, said they were waiting for more information and "then we can better explain the situation".