Laser shone at air ambulance crew above Bangor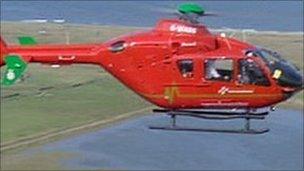 An investigation has begun after a laser light was shone at an air ambulance flying over a highly populated area in Bangor, Gwynedd.
Carl Hudson, a paramedic on board the aircraft, said it was lucky the bright light did not affect the pilot, as the helicopter could have crashed.
The crew were travelling from east Wales at around 1830 GMT on Saturday when the incident happened.
North Wales Police confirmed that they are investigating.
The air ambulance's current helicopter was unveiled in September 2009, covers the whole of north Wales and takes patients to three main hospitals at Wrexham, St Asaph and Bangor.
"Initially it lit up the cabin of the aircraft, luckily the pilot was looking away but unfortunately both myself and the other paramedic were looking in its direction and were temporarily dazzled by it," said Mr Hudson.
The paramedic said although the light did not cause any lasting effects it was "uncomfortable", and could have been much worse if the pilot had been involved.
"There is only one pilot on the aircraft and if he is temporarily disorientatde he could lose sight of where we're going and the worst case scenario would be the aircraft would have come down," he added.
Mr Hudson said the situation could have been worse still because they were flying over a highly populated area.
"You've got all the houses and shops, you've got the hospital, which we were approaching, so obviously it was quite a dangerous situation to be in."
The incident was even more unsettling because it happened just after night fell, and it is unusual for the air ambulance to fly in darkness, he added.
Mr Hudson said he was unaware of any other air ambulances being targeted by lasers, although he had heard of similar instances involving police helicopters.
"[Among air ambulance crews] there is a general anger that someone could be so stupid to do such a thing to any aircraft, let alone the air ambulance," he said.
"The consequences could have been dire," he added.
Related Internet Links
The BBC is not responsible for the content of external sites.