Keeping secret on William and Kate's Anglesey visit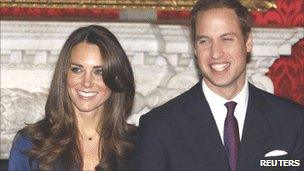 It can't be easy to keep it under your hat when you are expecting a visit from Prince William and Kate Middleton.
But that was the job of RNLI volunteers when the royal pair agreed to launch a new lifeboat near their Anglesey home.
However, as invitations went out in advance for 24 February some people who wondered aloud whether there would be any royal connection to the event.
"It was difficult to keep the secret, but we had to," said Heather Abbot, of Holyhead and Treaddur Bay Ladies Guild.
The news finally became public with the official announcement on Monday that the couple would be visiting, some two months before their wedding on 29 April.
"As the invitations were being sent out we were having people asking if there was any royal involvement, but we were fobbing them off with a 'you know as much as we do'," she added.
Now that the news is out, however, she said it had been a "great surprise" when Prince William's office contacted her husband Jack in response to a letter the couple had sent.
"We are very honoured because they have got such a busy time now, planning their wedding," she added.
Royal patronage would go further than on the day too, and was guaranteed to boost donations to the charity which depends entirely on fund raising to save lives at sea.
"It will help with everything, we have monthly meetings, and a shop in Treaddur Bay, all run by volunteers, and something like this will help," she added.
Apart from the official ceremony Prince William and his wife-to-be will be given a warm welcome in the Treaddur Bay boathouse too.
The ladies guild are planning "a cup of tea, bara brith and Welsh cakes".
"It will be a special day," Mrs Abbot added.
The Atlantic 85 lifeboat was paid for entirely with donations.
Aubrey Diggle, the Treaddur Bay Lifeboat operations manager said the naming ceremony was always a way to thank supporters and fund raisers.
"Having the royal couple there will make the day even more memorable for the whole community," he said.
The lifeboat station at Treaddur Bay was first opened in 1967, and since then the lifeboat has launched 873 times, saving 202 lives.
Christopher Pritchard, the senior helmsman, said William's work as a search and rescue helicopter pilot made his role in the naming specially significant.
"We also welcome him as a colleague who works with us to save lives at sea," he said.
Prince William's grandmother, The Queen, is the patron of the Royal National Lifeboat Institution.
Related Internet Links
The BBC is not responsible for the content of external sites.