Bangor skateboard 'pod' plan in memory of Darren Frost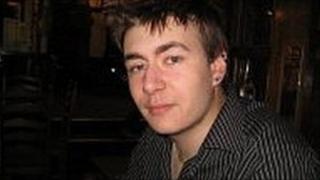 The Gwynedd city of Bangor could soon have its first skateboard "pod" with funds raised in memory of an 18-year-old fan.
Darren Frost died in a road traffic collision on Boxing Day 2009.
If it has planning permission the pod - a small kidney-shaped bowl - will be at King Georges Field in Beach Road.
A Gwynedd council spokesman said it would form part of a development to promote the use of sustainable transport.
The teenager's mother, Hazel, has told the BBC that her son would have enjoyed having somewhere to go to practice his sport.
'High quality'
"Skateboarding was Darren's passion in life and he would often come home complaining they had been moved on from where ever they had found to do it," she said in January.
"He would have loved the idea of having places to go," she added.
Rob Parson, the chair of the fundraising committee, said: "It will be high quality and the plan is to have other features in various places around the city".
No figures for the cost of the pod are available, but a big skate park in Caernarfon cost around £200,000.
"We will have bespoke designs (in Bangor) and they will not be an eyesore, in fact they'll be quite a feature," he added.
A Gwynedd council spokesperson said it had been working with representatives from the Darren Rhys Memorial Group.
"If approved, we hope that the skate park and related paths would form part of the Mon a Menai sustainable travel area promoting the use of sustainable transport in Bangor and the wider local area."
No date has yet been fixed for the planning application to go before councillors.