Holyhead meeting over coastguard station's future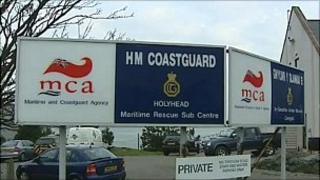 A public meeting takes place later between maritime officials and people concerned about closure plans affecting Wales' coastguard stations.
Holyhead and Milford Haven bases are under threat as part of UK government cuts, leaving Mumbles station, near Swansea, reduced to a daylight service.
The Maritime and Coastguard Agency (MCA) wants operations run better, but said the plans are not a "done deal".
The first consultation meeting in Wales is in Holyhead with two more planned.
Anglesey MP Albert Owen is among those hoping to voice his concerns to a panel of senior MCA management at the meeting at Holyhead High School.
"They haven't understood the strength of feeling in coastal and maritime communities," said Mr Owen.
More than 200 people attended a rally in Holyhead last month against the plans.
That followed a similar protest calling for Milford Haven station's future to be assured.
Holyhead mayor, Councillor John Owen, said with more cruise ships set to use the port, it was important a local service was retained.
Under the proposals there will be three 24-hour operational centres - at Aberdeen, in the Southampton and Portsmouth area and at Dover.
In addition, there will be five sub-centres open during daylight hours - at Swansea, at Falmouth in Cornwall, at Humber in Yorkshire and at either Belfast or Liverpool and at either Stornoway or Shetland in Scotland.
Mr Owen said: "It is a very short-sighted move to save money."
'National network'
The MCA is going through a consultation process, with separate public meetings being held about all three Welsh stations.
An MCA spokesperson said an independent chair would preside over the meetings with a short presentation from a senior official before questions were invited from the public.
Views can also given via the MCA website.
Vice Admiral Sir Alan Massey, the head of the service, said when he was in Milford Haven in February: "What we are seeking to achieve is a better coastguard service in the 21st Century and to do that we need a national network and to make better use of the people, skills and technology so we can coordinate things to be far more efficient than we are at the moment.
"Local knowledge is a key issue and seems to be the one that captures people's imagination, but we have to be more analytical."
When the reorganisation was launched in December it was said Milford Haven would close in 2012/13 and Holyhead a year later.
Mumbles, which covers much of the Bristol Channel, would become a sub-centre in 2013-14.
There are currently 23 posts at Milford Haven, 28 at Swansea and 23 at Holyhead.