Royal boost for Anglesey business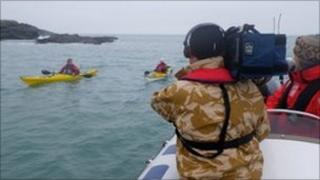 The naming of Trearddur Bay's new lifeboat by Prince William and his fiancee Kate Middleton saw the Anglesey village swamped by photographers, journalists and broadcasters from all over the world.
But the huge interest in the island was no one-day wonder.
TV companies have been filming in the area for some time in the run-up to the royal wedding on 29 April and local businesses are confident the resulting boost in trade so far is just the tip of the iceberg.
"We've been beseiged by media in the last week or so, which at this time of year is fantastic," said David Robertson, director at Ye Olde Bull's Head Inn, Beaumaris.
"We've had American news channels staying with us. And there's still a lot bubbling along under the surface with more press visits planned.
"Things look very promising. It's bound to have effect on the summer trade."
Prince William already has a home on Anglesey which he is renting for the duration of his posting at RAF Valley. It will be the couple's first home together after their marriage.
TV travel expert Simon Calder recently told island tourism businesses it was "the kind of publicity money can't buy" and he predicted a massive increase in the number of cruise ships visiting Anglesey because of the royal connection.
Gethin Morgan, Anglesey Council's principal tourism and marketing officer, said the number of international media enquiries received following the engagement announcement was amazing.
"It is going to have a huge impact," he said.
The couple's visit to Trearddur Bay on 24 February was covered by TV stations broadcasting as far away as Japan, Brazil, Australia and the USA.
UK national media gave a lot of space to the event, as well as publications as diverse as Motorboats Monthly and Anglotopia, 'the website for people who love Britain'.
One company outside Anglesey that's seen benefits from the media interest is outdoor activities operator Surf-lines, which is based in Llanberis but works a great deal on the island.
'World map'
They've been helping TV crews filming general interest material about Anglesey, including presenter Ben Fogle who has been working for the NBC Today programme in America.
Surf-lines owner Phil Nelson said: "We've always worked with the media. Last year we did The One Show and Live n Deadly, but this year there seems to be much more interest, in Anglesey in particular, mainly from foreign media.
"We're about to do something with some American freelance journalists who will be highlighting food, heritage and activities.
"I did some CNN stuff from my house on the type of house they might be living in.
"I think it's definitely put Anglesey on the world map.
"Our website traffic's gone up and I'm sure we'll see more people staying in the UK coming to Anglesey to do a bit of royal watching.
"Foreign visitors are more likely to think, 'let's include it on the tour'.
"The Americans traditionally do Scotland and Ireland, and Anglesey is only a short hop away from Ireland."
Brett Mason, European correspondent for Australia's Network 10 channel, was on Anglesey for the Trearddur Bay RNLI event.
He said there was a huge amount of interest in the royal couple in Australia.
"The pictures from here will lead our bulletins in Australia across the day and it's the kind of publicity I'd imagine would be very hard for a town like this to buy."
Visit Wales, who have been helping organise media visits and taking journalists on tours of Anglesey, are also using the opportunity to promote other parts of Wales.
Wedding rings
They highlight royal connections such as Prince Charles' Carmarthenshire residence and the use of Welsh gold in royal wedding rings.
A Welsh Assembly Government spokesperson said: "We hope this invaluable exposure will translate into benefits for the tourism industry in Anglesey and Wales as a whole.
"Following on from successful high profile events like the Ryder Cup, Wales profile abroad as somewhere to visit, live and work continues to grow."