Activities offer hope to recovering addicts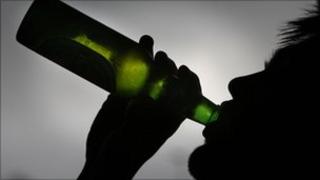 People recovering from drug and alcohol addiction in Gwynedd and Anglesey have been boosted by a new charity which offers support day and night.
The Anglesey and Gwynedd Recovery Organisation (AGRO) uses activities like gardening and group sessions to support people in their bid to give up drink and drugs.
More than 70 people have already approached AGRO's Holyhead and Bangor groups for help since it was set up last September, just through word of mouth recommendation.
Its founders are now starting to publicise their work and have secured funding from the Safer Anglesey and Gwynedd partnerships to set up groups in Amlwch, Llangefni and Caernarfon.
Huw Harries, who is a support worker for the dug and alcohol rehabilitation organisation CAIS by day, co-founded the charity in his spare time using his own funds.
As a former alcoholic himself, Huw feels able to reach out to those who are also fighting to get sober.
He said: "I haven't had a drink in 15 years. I used to be a nightclub manager and I suppose I'm on the other side of the fence now.
"I gave up because my wife gave me an ultimatum, saying she'd go back to Scotland if I didn't. I'm so glad I did because she died of cancer two years later and I was able to nurse her with a clear head."
But after working for CAIS for eight years, Huw realised that those in need had nowhere to turn to in the evenings or weekends.
Now AGRO offer 24-hour phone support to help an addict avoid having another drink or talk them through a period of anxiety.
But AGRO's other aim is to help people to recover through getting involved in new activities.
They have already turned a piece of Holyhead waste ground into a productive vegetable garden and have future plans to acquire more allotments and open a shop to sell their produce. They will plough any profit back into the community.
They also organise walks, kayaking sessions and fishing at weekends to help people get active and have something else to think about.
"It gives people something else to do when they come out of rehab after three or six months," explained Huw.
"And people really want to do it. It isn't often you have alcohol and drug addicts working on something together."
He was spurred on to start the groups on Anglesey after figures suggested more people from the island were admitted into Bangor's Ysbyty Gwynedd with alcohol-related problems than from anywhere in Gwynedd.
But from small beginnings, he see big demand for AGRO's work.
"We have all sorts of members," said Huw. "Students, people who own their own businesses, housewives, unemployed people.
"The days of people drinking all day haven't completely gone, but mostly now people binge-drink when they get stressed, or have a glass or two, or a bottle every night.
"And the price of alcohol doesn't matter. If you want a drink you'll get it, even if there are no buses and you have to walk a long way.
"It's easier to get some alcohol than call a doctor for help at night."
Although Huw is happy to help those who want to recover, he thinks that educating those who are yet to find themselves in trouble is ultimately the way forward.
"We want to go into schools or go to the WI to educate people about the side-effects of alcohol," he said.
"If you catch people early enough, then you'll avoid spending money on A&E or on unemployment, divorce or sorting out the effect on the kids."
"I've seen the suffering it can cause and want to help people early on."
AGRO can be contacted on 07549 956002 or 07823 778556.