Ffion Roberts trial: 'Dog hairs linked to accused'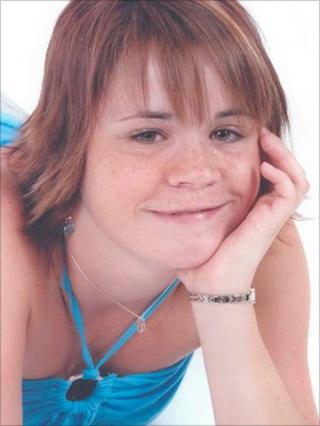 Two dog hairs were found inside the top worn by a Gwynedd care worker on the night she was killed, a court has heard.
It is alleged that DNA tests showed they matched hairs from a dog belonging to Iestyn Davies, 54, who denies Ffion Roberts' murder.
Caernarfon Crown Court heard there was compelling DNA, CCTV and forensic evidence to link Mr Davies.
Ms Roberts, 22, was strangled and drowned in Porthmadog last April.
Jurors were shown a compilation of CCTV images from the night Ms Roberts as killed, including some of her walking in the early hours towards her home from a pub at Tremadog.
Elwen Evans QC, prosecuting, said the images also showed Mr Davies leaving his flat in the town just after 4am and walking with Meg the dog.
On Thursday the jury was taken by coach to Tremadog and Porthmadog to visit scenes involved in the trial.
Mr Justice Lloyd-Jones told them Mr Davies had waived his right to be there.
The case, which is expected to last six weeks, continues on Monday.