From Criccieth childhood to the horrors of Vietnam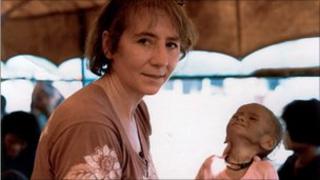 A Gwynedd nurse who dedicated her life to the sick in the world's most dangerous war zones has published her memoirs.
In Always the Children, Anne Watts, now 70, speaks of caring for injured children and soldiers in Vietnam, Cambodia, Thailand and Saudi Arabia.
She retired two years ago when her new-found passion for writing took over.
"For years people were trying to get me to write my story," said Anne, from Criccieth who now lives in Devon.
"But I was too busy living the stories. I'm not like a footballer who writes his life story at 21!
"Then my younger sister Joan said one day, 'when you die, all these stories will die with you', and that resonated with me much more than what anyone else had said."
The story begins with Anne and her two sisters enjoying an idyllic childhood in Plas Gwyn, a large house in Pentrefelin, near Criccieth, which is now a nursing home.
But a family upheaval when she was 10 put a dark shadow over Anne's life. She found inspiration instead in her Ysgol Eifionydd geography lessons taught by a Mr Prichard.
"One day he invited a lady to our class," Anne recalled. "I had never seen a person of colour before. Nigerians are shiny black and she was dressed in amazingly colourful clothes.
"Her stories complemented what my father had said; he was a merchant navy officer, so it was perfectly natural for me to become a citizen of the world."
Defying her father's objections, Anne trained as a nurse and in 1967 was drawn to an advertisement requesting medical help in Vietnam.
"As a child I would give a penny a month from my pocket money to Save the Children and I wondered what they did with all those pennies," she explained.
"It was at the very height of the war, but I didn't really know what I was going to; it wasn't like we had 24 hour rolling news back then.
"But they were definitely my growing up years."
Anne says she's always been a positive person, but recalling her experiences of war has made her angry all over again.
"I remembered a little 10-year-old girl who'd lost her legs and her family in Vietnam.
"I was on an American air force plane and saw the interaction between her and a 19-year-old soldier who'd also lost his legs and was dying.
"Sitting there, I remember thinking, this is what war is. It's not the good guys fighting the bad guys and the good guys win.
"The legacy goes on and on, like with the Palestinian and Israeli hatred. It's passed on mindlessly to the children."
The book follows Anne's experiences of nursing in some of the most infamous conflicts of the 20th Century.
"The overwhelming sense that has pervaded my life since seeing all these terrible things is the total waste of human potential," she said.
"Although I'm writing about Vietnam in the 60s, Cambodia in the 70s, South Lebanon in the 80s and the Gulf War of the 90s, we're now in the second decade of the 21st Century and look at the news.
"But the one thing I learnt is that people are all the same.
Scared
"I have been scared, but never scared of going into an area, because it's not the ordinary people who are the problem, it's the so-called leaders and the terrible decision-making that still goes on."
Anne is now working on her second book about her experiences working with the world's first nations, including the Australian Aborigines and American Inuits.
She also has a third, about the Middle East, in mind.
"As a nurse, you really get to know people," she said.
"You nurse kings and Bedouins and everybody in between, and people talk to nurses. It's a wonderful profession."
Always the Children will be released in paperback later this month by Simon and Shuster.