Ffion Roberts was 'left to drown', court told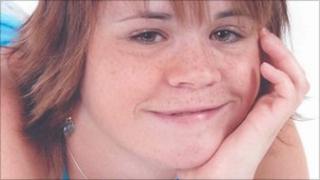 A murder trial has heard how a care worker from Porthmadog was probably punched, strangled with her own scarf and left to drown.
The body of Ffion Wyn Roberts was found in a drainage ditch in the Gwynedd town in April last year.
Caernarfon Crown Court was told Ms Roberts, 22, had suffered 27 different injuries.
Iestyn Davies, 54, also from Porthmadog, denies murder. The case continues.
The jury heard from Home Office pathologist Dr Richard Shepherd, who carried out a post mortem examination on Ms Roberts.
He said she had 27 different injuries and it seemed she had been punched, her head had been hit so hard she may have lost consciousness, and she had been strangled with her own scarf.
The pathologist said it seemed Ms Roberts was dragged to the drainage ditch but was still alive when she entered the water where she drowned.
Dr Shepherd said there was no evidence that the care worker had been forcibly held under water, although he could not rule that out.
The case is due to continue until early April.