Tremadog's Ysbyty Alltwen lift 'still not working'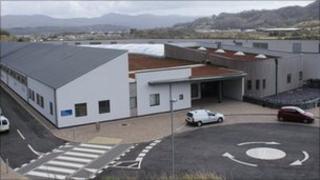 A lift linking a car park with a £19m hospital at Tremadog in Gwynedd is still not working two years after the hospital opened.
Supporters of Ysbyty Alltwen say the situation shows a "lack of respect" to the state-of-the-art facilities and excellent staff.
The Betsi Cadwaladr University Health Board admitted the original design was not "robust" enough for the location.
The board added it is seeking a "contractual remedy" to the problem.
The lift was commissioned after the hospital opened in 2009 after complaints about the distance from the car park to the main entrance which are on different levels.
The structure was nearly ready when strong winds damaged the glass in the upper part of the lift in December 2009.
A health board spokeswoman said it had been open for four full days and 20 half days, and cost the authority £41,000 to date.
It has currently been closed for some weeks.
'Extremely disappointed'
Councillor Selwyn Griffiths said Porthmadog Town Council was writing about the situation to the assembly government.
"We are extremely angry about this because it is taking away from the great hospital and excellent staff," he said.
"This hospital is a state-of-the-art facility and the situation is disrespectful, and gives the place a bad name," he added.
A spokesperson for the Betsi Cadwaladr University Health Board said: "The lift at Ysbyty Alltwen was commissioned in 2009 but unfortunately its design has not been robust enough to operate in that location.
"The health board's estates department have attempted a number of modifications to rectify the problem but these have not been successful. "
The spokesperson added the board is "extremely disappointed that the product supplied by the lift manufacturer has not been fit for purpose" and "we are seeking a contractual remedy".
The board said site managers are ensuring that "key disabled parking spaces adjacent to the entrance are well managed whilst the matter is pursued further with the supplier".