Ffion Roberts murder case: 'Partial DNA match' on scarf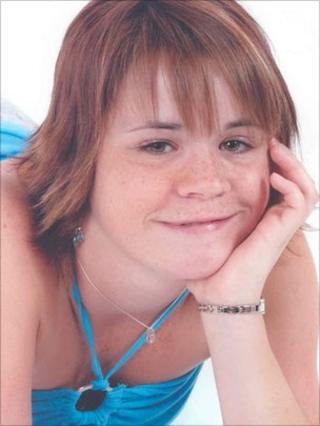 A forensic expert has told a murder trial that DNA found on the scarf used to strangle Ffion Wyn Roberts partially matched that of the defendant.
The body of Ms Roberts, 22, was found in a drainage ditch in Porthmadog, Gwynedd, in April last year.
The jury at Caernarfon Crown Court was told the results of DNA tests carried out on her clothing and handbag.
Iestyn Davies, 54, also from Porthmadog, denies murder. The case continues.
Susan Ann Cherry, who is based at the Home Office forensic science lab, said Mr Davies's DNA was found on the bottom of Ms Roberts' bag.
She said it was a one-in-a-billion chance it came from someone else.
Tests on the scarf and the victim's torn vest top gave partial matches, the court heard.
The matches were minor, she said, but "what I would expect if Iestyn Davies had handled them".
The jury was told by a Home Office pathologist last week that Ms Roberts, a care worker, had 27 different injuries.
The pathologist said it seemed she had been punched, her head had been hit so hard she may have lost consciousness, and she had been strangled with her own scarf.
He said it also seemed Ms Roberts was dragged to the drainage ditch but was still alive when she entered the water where she drowned.
The case is continuing.