Further suspension for Byron Davies of Conwy council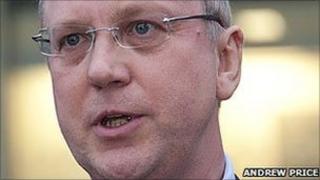 The chief executive of Conwy council has been suspended from his job for a further unspecified period.
Byron Davies, 52, was first suspended last March after he was arrested by police investigating an alleged rape.
In January Mold Crown Court found him not guilty of raping a woman who said she was too drunk to consent to sex.
The council said the first set of "disciplinary matters" had been concluded but "other matters" needing consideration had now come to light.
It said in a statement: "Conwy County Borough Council met today and concluded its consideration of an independent report into disciplinary matters relating to its chief executive, Mr Byron Davies. That matter has now been concluded.
"However, as a result of the need to examine other matters that came to light during consideration of the investigation report, the council decided that Mr Davies should be suspended for a further period."
Mr Davies, from Yelverton, Devon, took up his post at Conwy Council in February 2009.