Llandudno Museum's virtual exhibition of artefacts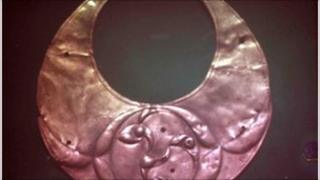 Llandudno Museum is hosting a virtual collection of artefacts which are usually never seen together.
A stone head of the Roman god Mars and a 10,000-year-old bone are among items which can be seen via holograms and 3D computer images.
"It's very futuristic to look at," said Shirley Williams, museums educational officer for Conwy County Council.
The exhibition is at Llandudno until 8 April, before moving to several other venues.
"A silvery light shines on the holograms which are in glass frames and when you look deep into them, it's like you can reach inside and pick up the artefact," said Ms Williams.
She admitted that while seeing the original artefacts was always best, the holograms came a close second.
"For example, our best find from Llandudno is a 10,000-year-old decorated horse jaw which is so important, it's kept in the British Museum," she said.
"We can't have it full time here, but we do have a hologram so local people can see their own heritage."
Other artefacts include a Tudor jug shaped like an owl found near Chester, a Bronze Age axe from Llangollen and an Iron Age copper plaque found at the bottom of Anglesey's Llyn Cerrig Bach.
The exhibition will move to Bersham Heritage Centre near Wrexham, Oriel Ynys Mon at Llangefni, the Grosvener Museum, Chester, and Llangollen Museum.