New RNLI boat for Portmeirion estuary shallow rescues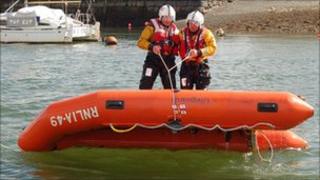 The Criccieth lifeboat station in Gwynedd is to get a new £10,000 inshore craft to help shallower water rescues.
It is the first station in the UK and Ireland to operate this boat type due to conditions in the Dwyryd Estuary.
The area, around the Italianate village of Portmeirion, is made up of a lot of gullies in the sand, which fill quickly when the tide comes in.
A similar boat, which Criccieth has had on trial since 2009, has already been launched 20 times and saved six lives.
"This smaller craft will be able to go to areas of shallow water, and there have been times where the larger boat has struggled near Portmeirion and Porthmadog," said Peter Williams, the Criccieth operations manager.
Over the weekend specialist training took place in Porthmadog harbour where techniques of righting the boat after capsize were taught.
"Despite this these small boats are extremely safe, and rarely tip over, even in very heavy swells," Mr Williams added.
A new boat is currently being built for the station and will be paid for out of the legacy of the late Margaret Evans from Criccieth.
"Thanks to this Criccieth will get a new boat and a small hut to house it," Mr Williams added.
A crew from Criccieth was commended for the rescue of a man in chest-deep water in the Dwyryd estuary in 2008.
He had been cut off by rising water near the Portmeirion Hotel. A tourist filmed dramatic scenes from the shore, as the man was plucked from the waves.