Llandudno residents want Bodafon fields protected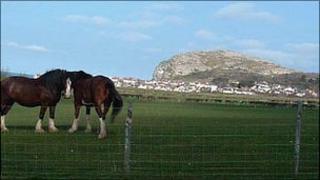 A residents' group wants a review of a decision to earmark green land in the centre of Llandudno for development.
Bodafon Fields, beside the sea between the Great and Little Ormes, could have 65 houses built on it according to a recent draft local development plan.
The plan aims to build 6,800 affordable homes by 2022. A consultation meeting is held on Tuesday night.
Conwy Council said it was only a "contingency" if others were not developed.
But Bodafon Preservation Association wants it protected.
It wants it brought under assembly planning policies to designate the land as green wedge or high grade protected agricultural land.
This cannot be used for development unless all other "inferior" quality land has been used.
The association says the council may have overlooked the protected status of the portion of Bodafon Fields under consideration because it is only 1.8 hectares.
Association spokesman John Williams says the site must be taken out of the development plan as a matter of urgency.
"This proposed development is one horrific mistake," he said.
Green heart
"It is quite clear that if we don't manage to get it out of the plan now this field will be developed. That in itself will set a very dangerous precedent and within a very short period of time the rest of Bodafon Fields will be developed too."
Another campaigner Ruby Williams added; "Mostyn Estate [who own the land] have been pushing to develop this land for years.
"But it's an important part of Llandudno's tourism. It's the site where they hold the annual Transport Festival each may bank holiday which brings in thousands of people.
"It's the only large, open space in Llandudno and is its green heart."
In response, a spokesman for Conwy Council said: "The site is proposed as a second stage contingency site for housing only in the local development plan (LDP).
"This means that the site would only ever be developed if the first stage housing allocations in the LDP do not come forward for development over the plan period."
The LDP is currently under public consultation until 26 April 2011.
A public meeting to discuss the issue will be held on 5 April in the main hall of Craig-y-Don Community Centre at 1900 BST.