Ffion Roberts murder trial: Accused denies lying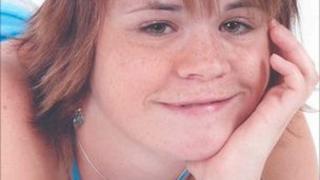 The man accused of murdering Ffion Wyn Roberts at Porthmadog has denied lying to police after they found his tracksuit bottoms at a sluice gate.
Factory worker Iestyn Davies, 54, told police they were not his, but had meant to tell them "no comment", Caernarfon Crown Court heard.
He denied he had changed his story, and said he had not killed the 22-year-old care worker in April last year.
Mr Davies denies murder and the trial continues.
On Friday Mr Davies, giving evidence in his defence, was asked by his QC Patrick Harrington: "Did you have anything to do with the death of Ffion Roberts?" He replied: "No, I didn't."
Mr Harrington asked him: "Did you see her that Saturday morning she was murdered?" He replied: "No, I didn't."
Mr Davies said he last saw Ms Roberts the previous night at The Station pub in Porthmadog when he gave her a cuddle. "I'm telling the truth," he said.
He added he had attended her funeral and visited her parents' home to offer his condolences in the days after her body had been found in a drainage ditch.
On Monday prosecutor Elwen Evans QC said Mr Davies had changed his story.
In his "defence case statement" last February he had claimed that he saw Ffion and her mother in The Station pub on the night before her body was found in a drainage ditch at Porthmadog, she said.
But in evidence he had suggested Ffion was with her father.
Mr Davies disputed that he had seen Ffion in the early hours of 10 April at the town.
Prosecutor Miss Evans suggested: "She was all too easy a target for you."
She alleged: "You realised she couldn't really fend for herself, didn't you?"
Miss Evans claimed Mr Davies had threatened to kill Ffion if she made a noise.
He insisted: "I didn't kill Ffion Wyn Roberts."
She continued: "You shoved part of her scarf into her mouth to stop her making any noise."
Mr Davies replied: "No, I didn't."
Miss Evans said he had then tried to get rid of clothing that might implicate him.
"You are covering up what you did on the morning of April 10," she said.
"No, I'm not," the defendant said.
The trial continues.