Royal wedding: Welsh chefs create charity wedding cake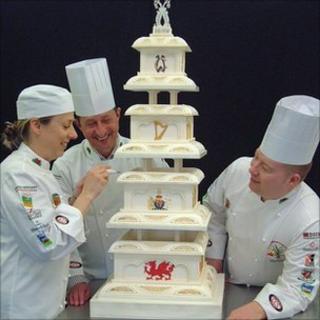 It may not be THE wedding cake, but Wales's top chefs have produced one to mark the wedding of Prince William and Kate Middleton.
It took over 300 hours to produce the four foot tall (1.2m) creation.
It is claimed it is fitting that the cake bakers are based in north Wales as the royals will live on Anglesey where the prince is stationed as an RAF search and rescue pilot.
The cake will be given to Centrepoint, a charity for homeless people.
Cake decorator Sally Owens, who lectures in cake decoration at Coleg Llandrillo Cymru at Rhos-on-Sea, Conwy, said the project "literally seems to have taken over" her life.
The fruit cake bears the monograms of the happy couple as well as the prince's coat of arms, the red Welsh dragon and a harp.
"Each tier is two cakes deep and it stands at four feet high with pillars between each tier," said Ms Owens.
The mother-of-two said that if someone was paying for all the cake it would cost around £3,500.
"But it's a once in a lifetime opportunity to do a cake like this for a royal wedding," she added.
There are two official wedding cakes.
One a traditional multi-tiered fruit cake made by Leicestershire baker Fiona Cairns, which will be decorated with edible flowers - an English rose, a Scottish thistle, a Welsh daffodil and an Irish shamrock.
There will also be a family childhood favourite of the prince's - an unbaked chocolate biscuit cake by McVitie's made to a secret Royal Family recipe.
The Wales cake was produced after Prince William and his bride-to-be took up the offer by Welsh National Culinary team manager Graham Tinsley to make one to celebrate their wedding at Westminster Abbey on 29 April.
"Sally has done a brilliant job in making and decorating a cake that is truly fit for royalty," he said.
"With Prince William being stationed on Anglesey with the RAF search and rescue team, and going to live in north Wales with his bride following the wedding, I think it's fitting that Welsh chefs should bake a cake for them," he added.
The cake will be donated to Centrepoint, a charity for homeless young people of which Prince William is patron.
Chief Executive Seyi Obakin said: "It will be a special way for young people supported by Centrepoint to be involved in our patron's wedding day celebrations."