Ffion Wyn Roberts murder: Defence on 'violent brother'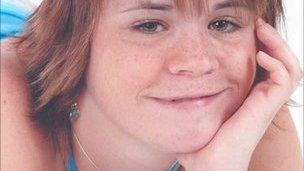 The jury in the trial of a man accused of strangling Ffion Wyn Roberts has been told that the prosecution had to prove her brother was not the killer.
Making his closing speech in the trial at Caernarfon, Patrick Harrington QC asked if it was a coincidence that Miss Roberts had a violent brother.
The body of the 22-year-old care worker was discovered in a drainage ditch in Porthmadog, Gwynedd, in April 2010.
Iestyn Davies, 54, from Porthmadog, denies murder and the trial continues.
In his final address to the jury, Mr Harrington said if the prosecution had confidence Miss Roberts's brother Elgan, 21, would be a decent witness he would have appeared in the witness box.
But Mr Harrington told the jury that the prosecution could not risk exposing him to cross-examination.
He said: "Is it a coincidence the victim also had a violent brother who used to beat her up and sexually molest her?
"Is it a coincidence Elgan Roberts is the only person who features in this case who knew which way Ffion would be coming home?
"What we do know is Ffion's DNA would mask her brother's and that he was threatening, violent, aggressive, sexually deviant towards his sister."
Mr Harrington maintained the jury could not be sure that wool packer Mr Davies was the killer.
The jury has heard that Elgan Roberts was considered a suspect and was arrested by police, but the line of inquiry was discounted.
In her final address to the jury on Thursday, Elwen Evans, for the prosecution, said evidence linked Iestyn Davies to Miss Roberts' death.
She said the defendant had lied to police, including when he claimed that tracksuit bottoms found in a sluice gate were not his.
The judge, Mr Justice Lloyd-Jones, is expected to start his summing up on Monday.