Lyme disease girl Sasha Hughes treated again after bite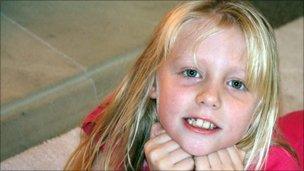 A girl who became seriously ill after being bitten by a tick has been treated again as a precaution after finding another insect bite.
Sasha Hughes, 10, from Manod, Blaenau Ffestiniog, Gwynedd, was diagnosed with the rare Lyme disease in 2008.
She is on antibiotics for a second time after returning from a school trip with a thin red rash on her wrist.
The alert comes in tick bite prevention week, run by a charity that says people need to be aware of tick bite risks.
Lyme disease is an inflammatory disease spread through a tick bite, which can leave a rash or a slightly raised red spot at the site of the bite.
The first symptoms are flu-like, but severe cases can lead to chronic arthritis and heart problems.
Sasha's mother Vicky said she had no idea what was wrong with her daughter when she suddenly became ill on a day trip to the Great Orme in Llandudno two years ago.
She said: "She had not been well for well weeks. She had bright rosy red cheeks and was very tired. She wasn't herself.
"She just said 'my eyes and face ain't working'. Her face was totally paralysed. Her eyes were rolling to the back of her head."
Doctors at Ysbyty Gwynedd, Bangor, first suspected meningitis, although this did not explain her facial paralysis, said Mrs Hughes.
"She was just deteriorating day by day. It was terrifying. It was worse because we didn't know what it was," she said.
Mrs Hughes said Sasha remained ill for around four weeks while she was treated with antibiotics and took around two years to recover.
She said: "Who knows where she got it from. She was playing with sheep in the field but my sister's kids are always getting bitten by ticks. They've never had Lyme disease.
"It's not unusual to get a tick bite but it is unusual to have Lyme disease."
Sasha was looking forward to the school field trip last week, said Mrs Hughes. But she returned with news that brought back the horrors of two years ago.
"The first thing she said was 'l've been bitten by something and I don't know what it is'. I panicked," said Mrs Hughes.
"I went straight to the surgery and they were treating her with antibiotics as a precaution.
"She's been bitten by something. We don't know what it is but I'm not taking any chances."
Sasha has not been diagnosed with Lyme disease for a second time but the alert comes during tick bite prevention week run by Bada (Borreliosis and Associated Diseases Awareness)-UK.
Public Health Wales said about 15 to 20 people were diagnosed with Lyme disease in Wales each year, although about 80% of these contracted the condition abroad.
Sasha was one of 18 cases in 2008. A spokesperson for Public Health Wales said it was not on the rise in Wales.
Related Internet Links
The BBC is not responsible for the content of external sites.