Horse whisperer uses Monty Roberts skills in Snowdonia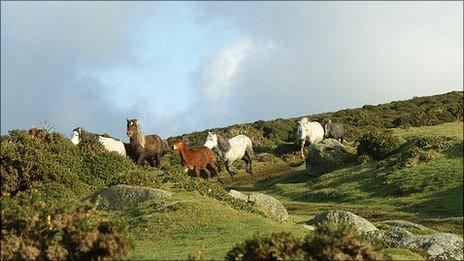 Farmers in Snowdonia are using a horse whisperer to train a threatened breed of mountain ponies.
The semi-feral ponies, which run away when approached, may become endangered unless they are tamed.
Fewer than 300 mares remain, after existing for thousands of years in the Carneddau mountains.
Now the Carneddau Pony Society hopes Barry Thomas, based in Crymych, Pembrokeshire, will succeed in breaking in the ponies.
Mr Thomas learned techniques from Monty Roberts, an American trainer believed to have been one of the inspirations for the novel and film Horse Whisperer.
The society's secretary Gareth Wyn Jones said he had high hopes for the breed, despite a disastrous end-of-season sale last year.
The society - Cymdeithas Merlod Y Carneddau - paid £2,800 to stage an auction, but raised only £430 after selling 45 horses to public bodies for wildlife grazing in conservation reserves.
The National Trust has agreed to export groups of ponies to Bickerton, near Chester, over three years, in an attempt to secure their future. But after that, the society will need alternative ways of making the breed self-financing.
"The ponies haven't had any human contact, they're very wild," said Mr Jones.
"Barry Thomas will be taking two of the ponies off the mountain and trying to train them using the techniques he learned from Monty Roberts.
"It's all to do with eye contact with the ponies apparently. A lot of it is done mentally, it's psychological training really."
Mr Jones added that, if Mr Thomas succeeded, it could make the breed more sustainable and marketable.
"If it works, the value of the ponies could rise to as much as £300 each," he said.
Mr Thomas, who will take the ponies to his farm in Pembrokeshire next month, said the process was all about gaining the ponies' trust.
"Hopefully it will mean that they're in a better state of mind, that they will be less frightened of being handled," he said.
"I get them used to different sounds, movements and materials. For example, we use plastics and tarpaulin, which can move quickly. Horses perceive us as predators, so we need to build up trust between horse and human.
"Horses communicate in silence - eye contact is very important and is a way of having a conversation with the horse.
"If the owner can market them, more people will want to breed them, meaning a better future for the horses."
Mr Thomas's work to train the ponies will be featured next month on S4C's Ffermio programme.
Related Internet Links
The BBC is not responsible for the content of external sites.