Urdd proclamation ceremony comes to Caernarfon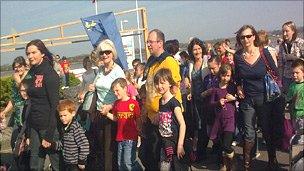 A proclamation ceremony was held in Caernarfon on Saturday to welcome the Urdd National Eisteddfod to Snowdonia in 2012.
Thousands of children, young people and Urdd supporters took part in the event, which included a parade through the town streets.
Next year's event will be held on the grounds of Coleg Meirion Dwyfor college in Glynllifon, just outside the town.
Organisers said fund-raising for the event was already in full swing.
Celebrations, including singing, Welsh language television characters and stalls were taking place inside the town's historic castle for the proclamation.
"We're delighted that so many children and young people have signed up to take part in the activities to welcome the Eisteddfod to Eryri in 2012," said Aled Siôn, the Urdd National Eisteddfod director.
He added the Eisteddfod had already received "so much support in the area with a number of events held to raise money, and a busy calendar of events to come".
"We appreciate and thank everyone for their support," he added.
The parade began from the Shell car park near Morrisons, Caernarfon at 1030 BST with the route leading to Caernarfon castle by 1130 BST.
Entertainment was laid on for the children inside the castle walls, with the event ending at around 1230 BST.
Related Internet Links
The BBC is not responsible for the content of external sites.