Snowdonia WWII plane search for scouts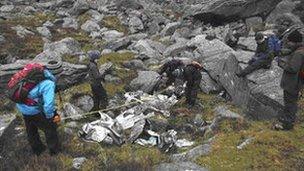 The scouts are helping the National Trust by mapping the remains of World War II aircraft which crashed into the mountains of Snowdonia.
Menai Explorer Scouts have already found an Avro Anson aircraft which came down on the Carneddau range in 1943.
Scout leader Stephen Mudge said it was important to locate the wreckage as it was part of Wales' heritage.
Snowdonia has one of the highest densities of WWII casualties, with 20 known British and German crash sites.
Mr Mudge said, despite a disappointing start, the first in a series of searches had been successful,
"The biggest was a section of the Anson, about five metres across and also another that might well have been from a second aircraft," he said.
Mr Mudge added what had happened on the mountains was "part of our heritage".
"It's important we map them before it's too late," he said.
Before they set out, the scouts visited the Caernarfon Air World museum at Dinas Dinlle, to see the types of wreckage they would find.
They were also taught about search techniques by Dr Tony Jones, the former leader of the Ogwen Valley Mountain Rescue Team which covers the Carneddau range.
Scout Oliver Jones said he was impressed with what they had found.
"There was a lot more out there than we expected, considering how long it has lain there," he said.
During WWII several Allied, and a few German aircraft, crashed in Snowdonia as a result of poor weather, lack of modern instruments and air combat.
The National Trust owns much of the land on the Carneddau mountain range, but not all the locations, condition and vulnerability of the remains are recorded.
All the aircraft parts that remain are still the property of the RAF, and the Military Remains Act 1986 makes it illegal for any parts to be taken away or excavated without a licence.
National Trust archaeologist Kathryn Laws said the hope was to compile a comprehensive list of the crash sites.
Related Internet Links
The BBC is not responsible for the content of external sites.