Gwynedd conman builder John Davies's victim warning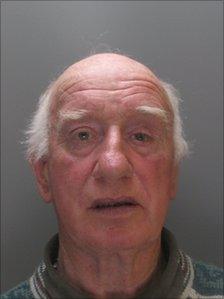 A 76-year-old pensioner who fell victim to a conman builder from Gwynedd has warned others to be careful when having work done to their homes.
Bertie Roberts from Brynrefail paid John Davies £2,300 to mend a leaking roof and thousands more to rectify his poor workmanship.
Davies, 66, from Waunfawr, was jailed for four-and-a-half years in March for defrauding three female pensioners.
Mr Roberts said "This is the first time I've been conned."
He talked about his experiences on Monday's BBC Wales current affairs programme Taro Naw, broadcast on S4C.
Last month Davies was jailed after pleading guilty to defrauding three elderly women out of nearly £100,000.
Recordings of police interviews with Davies and his partner Rhian Jones, 49, who was jailed for two years will be broadcast for the first time.
Mr Roberts said two years ago he contacted Davies after seeing an advert in the local press because his roof was leaking.
"He was quite nice, and had the gift of the gab," he said.
"That was one of his biggest attributes."
He paid Davies £2,300 after the builder drove him in his van to the bank in Caernarfon but rain continued to pour in through the roof.
Gwynedd Trading Standards saw the work and said it was not of a satisfactory standard.
"I accepted that he was honest at the time when he took me from my home to Caernarfon," Mr Roberts added.
"He was chatting about this and the other, and I'd accepted that he'd done honest work for me."
His daughter Llinos Roberts feels that her father was targeted because of his vulnerability and age.
"At the time he couldn't get up the ladder to check the work, and he [Davies] knew that."
Mr Roberts now wants to warn others to be on their guard.
"This is the first time I've been conned. I would now warn them not to fall into the same trap that I fell into."
Mold Crown heard heard the couple befriended elderly women from Llanystumdwy, Pwllheli and Abergele - aged 80, 75 and 74 - took money from them, and charged them exorbitant prices for work on their homes, some of it unnecessary.
The pair went on foreign holidays and cruises with some of the proceeds.
Taro Naw is broadcast on Monday 11 April on S4C at 2130 BST with subtitles in English available.