Giant crane lifts Porthmadog bypass bridge into place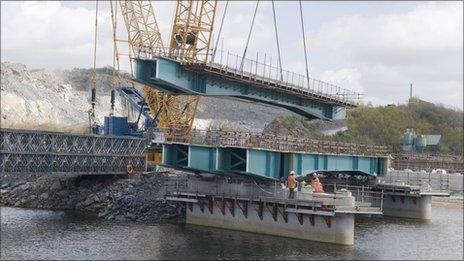 One of Europe's largest cranes has started lifting into place a landmark river bridge that will form part of a new £35m bypass in Gwynedd.
The 630 tonne giant crawler crane was delivered to Porthmadog in pieces and assembled over several days.
Its 60m (196ft) jib can be seen for miles around.
Once built, the 140m viaduct will carry bypass traffic over the Afon Glaslyn with the entire road project due to be completed by the end of 2011.
The Glaslyn viaduct is one of eight bridges being built as part of the scheme and will run parallel to the Cambrian Coast Mainline railway bridge.
The crane's tracks, jib, boom and counterweight were delivered to north Wales in wagons and took several days to put together.
Wyn Daniels, the bypass partnership project manager, said: "There has been considerable interest from the local community since the crane arrived, and it will be a prominent feature of the skyline for the coming weeks.
"Construction work beneath water level has been going on for several months, and once the sections of the beams had arrived on site they had to be spliced together using a smaller crane."
It is hoped the new section of the A487 carriageway will improve journey times and ease congestion by enabling traffic to bypass Porthmadog, Tremadog and Minffordd.
But some businesses in Tremadog have expressed concerns about losing passing trade during the work.