Ffion Wyn Roberts murder: jury out to consider verdict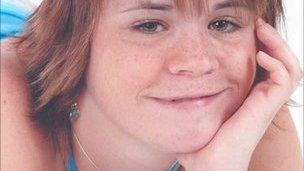 The jury in the trial of the man accused of strangling care worker Ffion Wyn Roberts, 22, has retired to consider its verdict.
At Caernarfon Crown Court, Iestyn Davies, 54, of Porthmadog, Gwynedd, denies murder.
Mr Justice Lloyd-Jones sent the jury members out on Tuesday, a day after he warned them to keep cool heads in considering the verdict.
Her body was found in a drainage ditch at Porthmadog in April 2010.
The prosecution alleges the defendant, who knew Ms Roberts and her family, saw her drunk and unable to fend for herself after she had left a pub in the early hours.
The case against Mr Davies alleges that he was in Porthmadog town centre early that morning, and appeared on CCTV around 4am, but disappeared from view shortly before Ms Roberts was last seen.
He reappeared just after 5am, and the prosecution said during that time he killed her.
His DNA was found on the knot of the scarf used to strangle her, although he maintains this could have been passed on when he gave her a hug outside his local pub, a few hours before she was murdered.
Prosecutors also said that after he had killed Ms Roberts, Mr Davies went home briefly, changed his clothes and went to the sluice gates by Porthmadog harbour and dumped some of his clothing in there along with Ms Roberts's handbag, which had his DNA on the bottom.
A pair of tracksuit bottoms were found there with his DNA on them, and also covered in mud which was similar to the mud at the place where Ms Roberts was found.
Mr Davies said it was normal for him to be out walking his dog at 4am.
Mr Davies has admitted the tracksuit bottoms were his but said he did not put them where they were found.
He said that he had washed them and hung them up at the wool factory where he worked but there was a gap in an outside panel of the building and they had vanished.
Mr Davies said his earlier hug of Ms Roberts explained how his DNA came to be on her handbag.
The defence claimed the jury could not be sure that wool packer Mr Davies was the killer.
It said the prosecution also had to prove that Ms Roberts' brother, Elgan, was not the killer.
The defence claims the prosecution did not risk calling Elgan Roberts as a witness because he was "threatening, violent, aggressive, [and] sexually deviant towards his sister" and also was "the only person who features in this case who knew which way Ffion would be coming home".