Ffion Wyn Roberts murder case jury's message to judge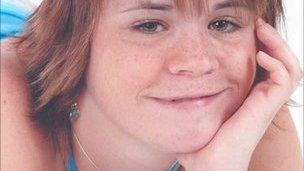 The jury in the murder case of Ffion Wyn Roberts has told the judge it is unable to reach a unanimous verdict.
The judge has asked the jury at Caernarfon Crown Court to continue deliberating.
Iestyn Davies, 54, of Porthmadog, denies murdering Ms Roberts, 22, who is from the same Gwynedd town.
The jury was sent out on Tuesday and the judge, Mr Justice Lloyd-Jones, has warned members to keep cool heads in their deliberations.
They were sent home for the night and will continue to consider their verdict on Thursday.
The care worker's body was found strangled and drowned in a drainage ditch in Porthmadog in April last year.
The case against Mr Davies alleges that he was in Porthmadog town centre early on the morning Ms Roberts was killed.
He was seen on CCTV around 4am, but disappeared from view shortly before Ms Roberts was last seen.
He reappeared just after 5am, and the prosecution said during that time he killed her, and DNA evidence links him to her.
The defence claimed the jury could not be sure that wool packer Mr Davies was the killer.
It said the prosecution also had to prove that Ms Roberts' brother, Elgan, was not the killer.