Anglesey councillors' allowances cut after 'takeover'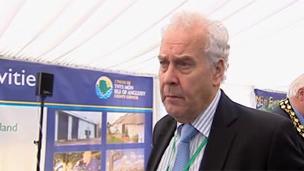 Senior councillors on Anglesey council will see their allowances slashed, it has emerged.
They include council leader Clive McGregor, who loses his annual allowance of more than £26,000.
It comes after their decision-making powers were handed to newly-appointed commissioners at the local authority.
They were called in by Social Justice and Local Government Minister Carl Sargeant after years of political in-fighting.
The Independent Remuneration Panel for Wales met on Tuesday after being asked to look at councillors' allowances by Mr Sargeant.
Mr McGregor said: "It's not entirely unexpected in light of the changes taking place at the council."
He does not intend to stand again for leadership after the council's AGM in May.
Richard Penn, chair of the Independent Remuneration Panel for Wales, said the decision on allowances was made "following discussion with the commissioners, and after considering representations made to us by others".
He said special responsibility allowances (SRAs) for the leader, deputy leader, executive members and opposition leader cease from Wednesday.
SRAs for committee chairs will remain at a new maximum of £7,474 per annum.
The basic allowance payable to all councillors in Anglesey "has a new maximum of £11,664 per annum". Last year's basic allowance was £12,960.00.
Commissioners will continue running Anglesey council until May 2012 at the earliest.
Related Internet Links
The BBC is not responsible for the content of external sites.