Coroner's concern at Gwynedd tourist's raft trip death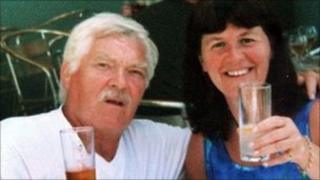 A coroner has criticised a raft trip in south-west Turkey, which ended with the drowning of a Gwynedd tourist.
Non-swimmer Richard Manning, 66, originally of Somerset but living in Tudweiliog, died after the raft capsized on the swollen River Dalaman.
The Somerset coroner recorded a narrative verdict that Mr Manning drowned after being knocked unconscious when the raft capsized in October 2009.
Michael Rose said guides had taken an "unreasonable risk".
Mr Manning's family have also been critical.
His daughter Anne Nicols said two guides had been arrested but she said she felt the authorities should be doing more after the incident.
The inquest in Taunton heard how Mr Manning, a plumber, had been on holiday in the resort of Marmaris with his partner Mai Williams.
They were in a party of tourists which went on a raft trip on the River Dalaman in a mountainous area of south west Turkey despite heavy rain in previous days which had swollen the river.
In a statement read at the hearing, Ms Williams said that tour guides decided to press ahead with the trip rather than refund the tourists who voiced concern about the conditions.
She said the guides looked for a calmer entry point further down the river but returned upstream after failing to find one.
"I asked them more than once, 'is this safe?"' Ms Williams said.
"I pointed out to a guide that Richard couldn't swim and he assured me he would be ok because his lifejacket and helmet would keep him up if he fell in."
After the guides refused to turn back, the raft capsized throwing seven tourists and a guide into the water.
"The whole raft flipped over and we were all upside down in the water," said Ms Williams in her statement.
"I tried to hold on to Richard but the force of the river took him away from me. I never saw my Richard again."
Other witnesses told the inquest that Mr Manning's lifejacket didn't fit properly, that training lasted no more than 10 minutes and they had been issued with broken paddles.
'Terrified by the experience'
They also said Mr Manning had already been hauled back after half-falling into the river before the raft capsized.
Mr Manning's daughter, Anne Nicols, who attended the hearing with her brother and sister, said they had learnt that two guides had been arrested over the death.
But she added that further efforts to contact authorities in Turkey were proving impossible.
"Where is the justice for my dad?" she said.
"How many more deaths are going to happen on these rivers?
"Not enough is being done about our father's death to bring those responsible to justice."
Somerset Coroner Michael Rose said: "I can see that everyone on the raft who is here was terrified by the experience".
Mr Rose queried the standards of safety in Turkey, saying the guides had taken an unreasonable risk.
"Here is a country that is applying for membership of the EU. But we know that standards of safety vary greatly even within countries in the EU.
There is a clear dividing line between reasonable risk and taking an unreasonable risk. In allowing this trip to go ahead the guides took an unreasonable risk. They should never have allowed the raft to set off."
He also confirmed he had trouble obtaining information from the Turkish authorities but did not want to delay the inquest "for another year or 18 months".
In July 2010, a nine-year-old girl from the Vale of Glamorgan drowned in an accident in the same region.
Cerys Potter, from Llancarfan in the Vale of Glamorgan, drowned when a boat carrying about a dozen people struck a rock and overturned at Lake Koygeyiz in southern Turkey.