Royal Wedding: Showground event for pair's island home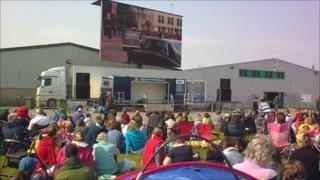 About 2,600 people gathered to watch the marriage of Prince William and the new Duchess of Cambridge on a giant screen near their Anglesey home.
The couple's wedding ceremony was relayed onto a 10 metre by five metre (32x16ft) TV screen at the Mona showground.
The location is just a few miles from where the prince works as a search and rescue helicopter pilot at RAF Valley.
Glorious sunshine welcomed visitors to the event.
Around the communities closest to the couple's home, a beach party was taking place at Rhosneigr and the village hall at Aberffraw was decked out with flags and bunting for a party.
A cheer went up from the crowd at Mona as the duchess stepped out of the car at Westminster Abbey and she could be seen properly for the first time.
Lady Michaela Clare, who got her title as a Christmas present from her grandmother, joked that she was "gutted" not to receive an invite to the wedding but was delighted to be at the Anglesey event.
"The dress is just how I thought it would be, as it shows off her figure and she looks amazing," she said.
Lifeboatman Stephen Rogerson was at the event with his son William, seven.
William was dressed in a mini-version of an RAF search and rescue crew uniform.
Mr Rogerson met the couple when they dedicated a lifeboat at Trearddur Bay in February.
He said: "It's remarkable how much the people of Anglesey have taken them to heart and this is a way to show that respect."
The crowd cheered and clapped every time the island was mentioned in the coverage.
There was a technical glitch when the big screen disappeared for a couple of minutes but everything was soon back to normal.
The highlight of the event came with a fly-past by William's colleagues from the RAF search and rescue squadron.
A yellow helicopter swooped past the crowd in three low loops to flag-waving cheers.
It was crewed by RAF personnel usually based elsewhere in the country who volunteered to cover Valley's duties while William's team attended the wedding.
'Party atmosphere'
Christine Anderson, 54, a retired RAF Valley civilian worker, said the islanders would give the couple much-needed privacy in the early days of their marriage.
"Coming here will be their best chance of living a normal life," Mrs Anderson said.
"But I expect William won't be at the pub's quiz night with his friends as often now he's married.
"People will always remember where they were when William and Kate married so we've come along because there's a great party atmosphere.
"It's lovely to see the crowd, the sense of unity and pride. It's just what this country needs - a reason to smile."
Penelope Cooper travelled from her home on the Belgium-Germany border, picking up her daughters, Charlotte and Jennifer, in Edinburgh on the way.
She said she wanted to come home to Anglesey to watch the wedding and soak up the atmosphere with her mother, Averil Bentley.
"I couldn't watch the wedding in Belgium" she said.
Prince William's RAF Valley colleagues were invited to Westminster Abbey, and the man who taught him to to fly also has a ceremonial role at the royal wedding.
'Amazing honour'
Wing Cdr Kevin Marsh runs the training school at RAF Valley in Anglesey, and his work on Friday included being a path liner on the route to Westminster Abbey.
Meanwhile, a piece of music by a little-known composer was chosen for the royal wedding service.
Anglesey-born Paul Mealor's work, Ubi caritas, was performed by the Choir of Westminster Abbey and the Choir of Her Majesty's Chapel Royal, St James's Palace.