Royal Wedding: Lleyn couple celebrate 69th anniversary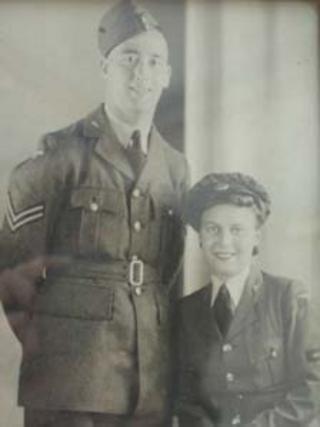 If Prince William and Kate Middleton can one day match the very long marriage of Ronald and Gwendoline Catlow, they will be very proud.
As the royal couple exchange their vows on Friday, Ronald and Gwendoline Catlow will celebrate their 69th anniversary.
The couple, from the Lleyn peninsula in Gwynedd, are now 93 and 91, and married on 29 April, 1942.
Because of a wartime coupon shortage, the bride chose a going-away outfit over a wedding dress.
The couple both wore uniforms for their big day which was also on a Friday.
Mr Catlow wore his Princess Mary Royal Airforce Nursing Service corporal's uniform and Mrs Catlow her Womens' Auxilary Air Force (the Auxiliary) uniform.
It was love at first sight when the couple met in Cardiff.
Mr Catlow recalled they had to get a special licence from the Bishop of Llandaff for the wedding which took place at St Donat's Church in his wife's home village of Abercynon in Rhondda Cynon Taf.
The precious coupons were spent on a black skirt, black top, a felt hat decorated with feathers, and a fox fur.
The honeymoon was spent in Mr Catlow's native Lancashire, as the bride had not met her in-laws beforehand.
"We got permission to 'live out' [of military accommodation] with a lady in Ely, and then after I came out of the RAF in 1947 my parents got us a cottage in Colne, Lancashire," he said.
Prince William and Mr Catlow share the RAF experience, but he said the situation was very different for a young married man then.
"When our daughter, Diana, was six months old I was posted to India, and did not see her again until she was nearly four," he said.
"It didn't just happen to us though, it happened to hundreds of people in similar situations."
After he came back the couple settled in Lancashire and Mr Catlow worked on the railways. The couple moved to the Lleyn peninsula 22 years ago to join family.
Over the years, Mr Catlow has been an active member of the ramblers, camera club and attended Welsh classes.
He moved to Dolwar residential care home at Llanbedrog 12 months ago to be reunited with his wife, who has been living there for a couple of years.
He plays down the achievement of 69 years of married life.
"We had to make it work and when I came back, and out of the air force, we lived together in the cottage," he said.
"We didn't have many rows, but I wouldn't think of giving advice [to the royal couple] because they will work it out themselves," he added.
Glenys Stacey, the manager at the home, said the couple "are obviously very much still in love".
"It's obvious because Gwen's eyes light up whenever she sees him," she said.
"It is good that they can be together, and he moved in here because he missed her so much," the manager added.
A special buffet and cake is planned at the home to mark Friday's anniversary.