Protest against thousands of affordable homes in Conwy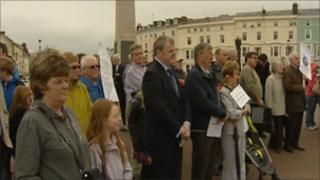 Campaigners have protested against plans to build thousands of homes across Conwy in the next decade.
The local authority aims to build 6,800 affordable homes by 2022, as part of a Local Development Plan (LDP) which is open to consultation until Tuesday.
Protest organiser Dan Worsley said there was "anger and dismay" among the 80 or 90 people who gathered on Llandudno's promenade.
Conwy council leader Dilwyn Roberts said no decision had been made.
Mr Roberts said: "It is currently out for consultation to the public.
"We will wait and see what the public tells us, and it will be considered again before it's presented to the Welsh assembly."
Mr Worsley said the LDP had "very damaging implications" for people and their communities in the whole of the county.
He added: "Throughout the area there are protest groups opposing new housing developments, like the one on Bodafon Fields in Llandudno.
"The small town of Abergele is expected to absorb 875 new houses, 80 in the village of Glan Conwy, 65 in Craig-y-Don, Llandudno and so the list goes on."
At Bodafon Fields, The Bodafon Preservation Association wants the site protected and designated as green wedge or high grade agricultural land.
This could not be used for development unless all other "inferior" quality land has been used.
Conwy council has previously said the site was a "contingency" if other sites were not selected.
One protester said: "I know we have to have somewhere to live, but we don't need that many people coming into the area because we just can't support them.
"We don't have the facilities education-wise to support them.
"You've got things like sewerage, traffic, pollution. The hospitals are already groaning under the weight - they've got more budget cuts - how are we going to look after all these people who are coming in?"