Pumpkin sculpture idea for Gwydr forest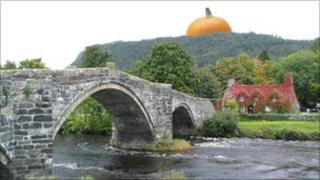 An artist wants to create a giant pumpkin sculpture to tower over Gwydr Forest near Llanrwst in Conwy to celebrate the area's pumpkin growers.
The 40m (131ft) high artwork is the vision of New York-born artist Steven Brower.
He says he got the idea when he went to see a pantomine at Llandudno.
The forest is owned by the Welsh Assembly Government, which said any planning issues would be dealt with by the local council.
The idea is being backed by ARC, a Llanrwst-based community arts group, which aims to boost tourism in the Conwy Valley through cultural regeneration projects, including public artworks.
It said if built it could rival the Angel of the North sculpture in Gateshead.
Mr Bower said: "We don't do pantomime so much in the States and I saw it for the first time in Venue Cymru, Llandudno, and it is a very strange and beautiful tradition you have here.
"My enormous pumpkin is a celebration of that, but also a homage to the pumpkin growers of the Conwy valley over the centuries," he added.
Megan Broadmeadow from ARC said the installation, which it hopes would be built from recycled materials, would attract people from all over the country.
"It will be brilliant . . . it will be not only a visual icon, but so large that educational, arts and green activities can happen inside it all year round," she added.
There are no costing for the structure up to now, but local people are being asked for their opinion.
Conwy Council said it was not aware of any plans being submitted.
Anna Edwards from Cafe Contessa, said she had been asking her customers what they think of the town being overlooked by a pumpkin sculpture.
"I've had a mixed reaction, some people say it sounds silly, but others think it's a good idea," she said.
"Generally I think people find it quite funny though, although a few have said 'why a pumpkin'. I think it could be quite quirky," she added.